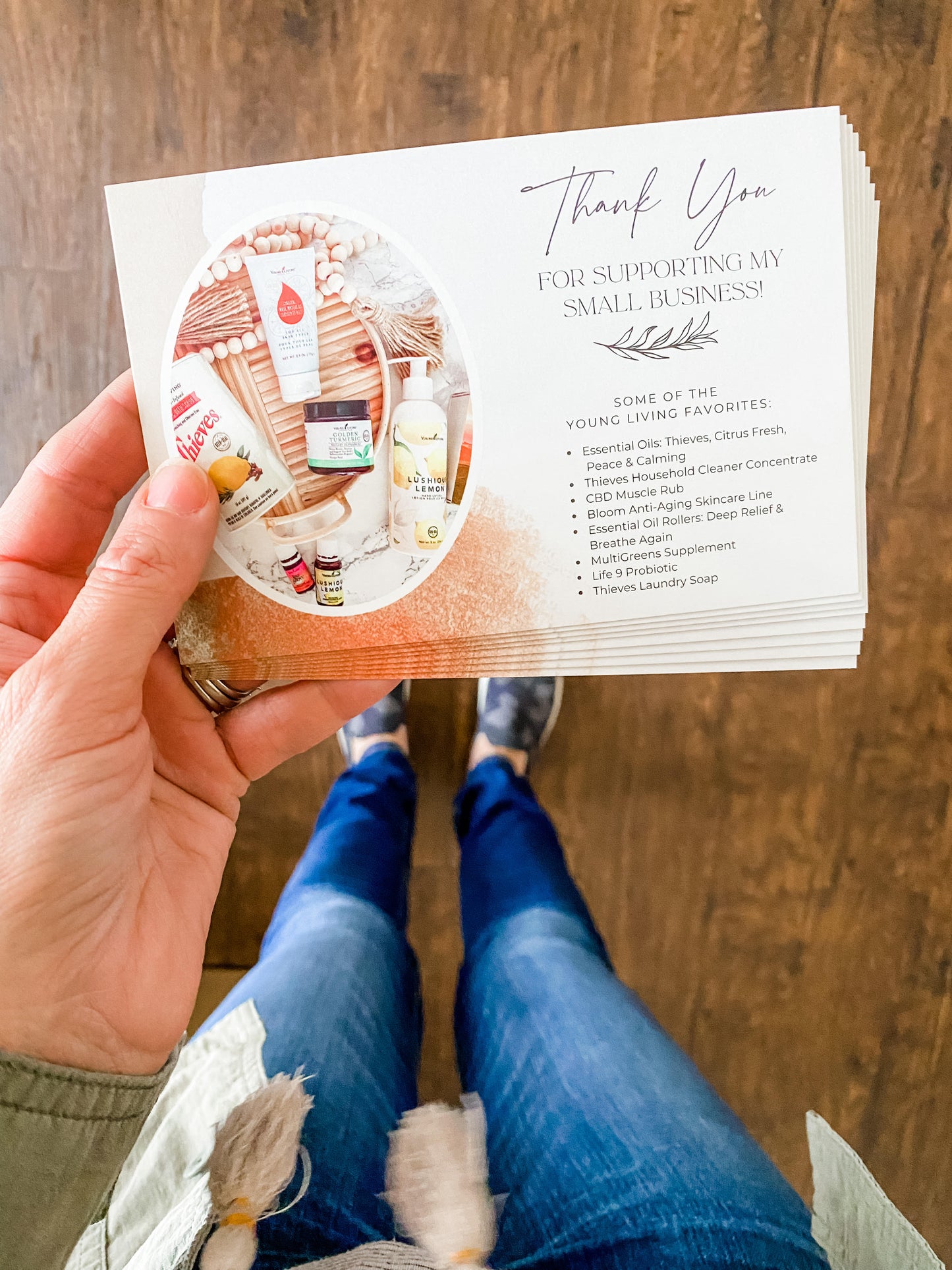 Okay listen. It's time to WARM UP YOUR TEAM. Drop a note in the mail and remind them that you're here for SUPPORT and KINDNESS and GENEROSITY and loving on them.
The simplest way to do this? a text or email. Yep. Do it.
Want to level up? I'm making this even easier for you by offering

 

20% off all the postcards in my OilSupplyStore.com shop through October 31. Use the code POSTCARDS20 to save!!!
WHY? Here's some business advice you can take to the bank:
Saying THANK YOU to everyone on your team is something you should do on a regular basis. You have friends and family members shopping FROM YOUR STORE. Sweet friend, never underestimate how amazing this is!
We often shy away from having "hey thanks for placing an order this month" conversations with people because we don't want to make our encounters "transactional" in nature... but by IGNORING that they've spent their hard-earned money at our shops, we're actually doing the opposite and acting like we didn't notice or it wasn't a significant enough purchase to get our attention.

 

**clutches pearls**

 

oh dear goodness, that's NOT what we want!!!
With my team, we send regular "I saw you placed an order this month... thank you for supporting my small business!" postcards. Here are some options to consider from OilSupplyStore.com :
Thank You cards have a "thank you for supporting my small business" note as well as some of our favorite products listed out - easy to understand stuff like Bloom Anti-Aging Skincare Line, Life 9 Probiotic, Thieves Household Cleaner Concentrate, etc - making it easy for them to find something to add to their next order

Diffuser Postcards are a fun way to inspire people to use those oils! Specifically check the Give Thanks, Harvest, Happy Holidays, and Merry Christmas cards for this season. Emotions & Diffusing, Just Breathe, and Thieves are also hugely popular for winter!

Celebrate your WINS and your WINNERS. Have you shouted out your rankers in a while? Who cares if they haven't ranked up recently. Do you have someone working hard? Have you TOLD THEM? Check my Appreciation Cards, Oil-Aversary Cards, and Rank Cards for another way to pat someone on the back.

Want to level it up even more? Grab some of the SHEETS (like a good old fashioned tear pad, chock full of information about product lines, loyalty rewards, or geared for kids - lots to choose from!) and tuck both a SHEET and a POSTCARD in an envelope with a personal note from you. That's a great way to get their attention!!
The key is... loving on our people NOW, today, THIS WEEK... is one more way to have them glance our way when Black Friday & Cyber Monday show their goodness. NO, it's not all about "getting the next sale" - but at the same time, we're in the business of serving and helping others and sometimes putting some tangible oily tips & recipes in their hands is exactly what they need. It's a bonus if they think of us for that next order!
20% off all the postcards in my OilSupplyStore.com shop through October 31. Use the code POSTCARDS20 to save!!!